Hello Stranger! We've accidentally become rather stealthy here on the blog, but we haven't slowed down on Twitter or on the game!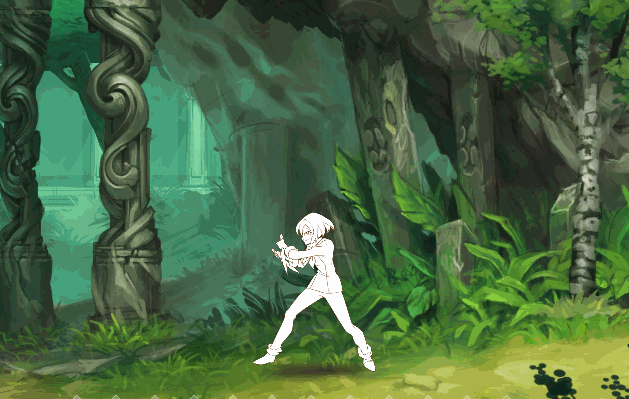 Here's the lightning edition of what we've been up to these last few months:
Updating the environments (Yann has been delivering amazing work!)
Revamping the Kitchen mechanics (there's now an elegant space-management mechanic)
Helping with Bit Bash planning
Revamping the UI (controller support is now in as well!)
Molding a tutorial into shape – playtests have begun!
Most importantly, though, we've been preparing for our upcoming Kickstarter campaign! We're polishing up the game in anticipation of capturing lots of gameplay footage, so Mina and the monsters are finally all getting colored! One of our friends, Mike Antonicelli, is helping Eric color some of the gazillion frames of animation.
Here's some of our recent Twitter activity – follow us for up-to-the-instant BCB news and shenanigans!
exploring the life of Mina #battlechef pic.twitter.com/hbEJlOcmzd

— Eric Huang (@TrinketEric) July 8, 2014
Adding some fart layers helps tie the room together with this @BattleChefGame Squid Monster. https://t.co/iREGSbcvmh #SoundDesign

— Sounds Like George (@grhufnagl) April 25, 2014
I remembered #screenshotsaturday ! Here's Mina making something delicious in @BattleChefGame #unity3d #gamedev pic.twitter.com/zS9FzDebic

— Tom Eastman (@TrinketTom) July 26, 2014
Lots of chunks today! pic.twitter.com/fJIvFzEbs4

— Battle Chef Brigade (@BattleChefGame) June 6, 2014
Got tired of struggling to identify colliders in our @BattleChefGame scenes so I made this visualizer thing. #unity3d pic.twitter.com/aDMQp9oCyA

— Ben Perez (@trinketben) June 11, 2014
It is important in @BattleChefGame that these piles of Gloop are different colors. You'll just have to trust us :D pic.twitter.com/fmZ8r5EZkf

— Trinket Studios (@TrinketStudios) June 17, 2014
a simple sauces and seasoning visual test on raw meat. :P #battlechef pic.twitter.com/iO9au0wrTN

— Eric Huang (@TrinketEric) June 23, 2014
This is what happens when I leave the game open to do something else. The birds have rabbit-like qualities :D pic.twitter.com/MXKfRpMebO

— Tom Eastman (@TrinketTom) July 9, 2014
clean lined this monster charge :P Now I can leave the office. :O #battlechef http://t.co/mijrMMuv1U

— Eric Huang (@TrinketEric) July 24, 2014
Ciao for now! See you soon on Kickstarter!